The Customers page contains all of the customers that your user account has permission to see. To add, change or remove customers, click on Customers in the menu bar.
From here, you can filter and search for customers, as well as add them.

Adding a new customer
To add a new customer, click on the Create New button at the bottom of the list.
You will see the customer details screen (explained below).
Editing and Deleting an existing customer
To change a customer's details or remove them, you must first click on them.
A new tab in your browser will be shown, with the customer's details in it (explained below).
Customer Details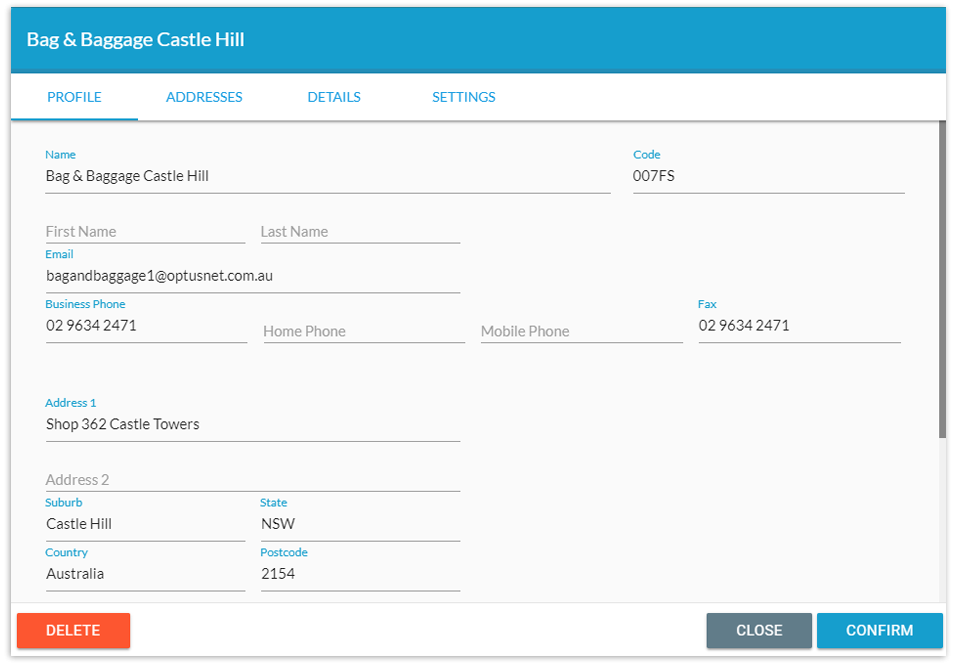 From here, the following options are available;

Customer Details (name) – This first field is for the customer name. If no value exists in this field, you will not be able to save the customer.
Main Address – These fields will be used for delivery and billing addresses on new sales, by default.
Customer Addresses – You can add further billing and delivery addresses if required, and these will overwrite the main address for new sales.
Tax Applies – Indicates whether tax should be applied to sales created for this customer.
Account Frozen – If this is checked, sales reps using the SalesIn app will not be able to create new sales for this customer
Default Location – This indicates the Item Location that should be used by default when a new sale is created for this customer.
Discount Group – Put a value in here to allocate a customer to a Group. Discount Groups can be used when defining pricing rules / discounts.
Default Terms – This indicates the default payment terms for sales created for the customer.
Users – Use this to allocate the customer to one or more users
Comments – Enter any comments about this customer here
Watchout Notes – Watchout Notes are seen by sales reps when the customer is used for a new sale
Allowed Item Categories – Tick the item categories that you want to make available for customers to buy from you. If item categories are unticked, the items within these categories will not show up when a new sale is created.


Show Customer's Sales* – Opens a new tab, navigating to the Sales page, and filters on sales for this customer.
Show Customer's Activity Notes* – Opens a new tab, navigating to the Activity Notes page, and filters on activity notes for this customer.
Delete* – Removes this customer from SalesIn.
When you have finished with the sale item, click Confirm (bottom-right) to save it and close this window.
Note
If you cannot see some of the options described here, it likely means your user account does not have permission to use these areas.
If you have Custom Fields enabled for Customers, these will also show up on this screen.