If you have templates set up for a specific customer or all customers, tapping onto the Items tab within a Sale without items will automatically show the available templates.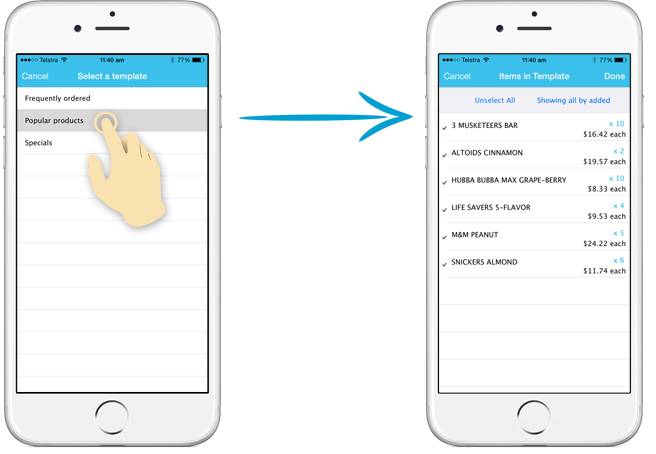 General Usage
If you have multiple templates you will pick its name first, otherwise you will be taken into the only available template immediately. From here, you can review the items, their price and quantity before adding them in a single action to your sale by tapping Done up the top right.
It's important to note that templates always add items into the sale – they never adjust quantities of matching items in the sale.
You can add items via templates at any stage during the sale, by tapping on the Action ([↑]) button and selecting Add Items from Template.
Things to know when stock is involved and templates are set up to use any stock location
Seeing as templates can be created to take stock from any location, there are certain rules in place that SalesIn follows and it is all interlinked with your device settings.
Where will stock be taken from?
The Preferred Template Location setting mostly defines this.
If you set this to Automatic, SalesIn first looks to the Customer's Default Item Location (if any), and then through the User's Item Locations (in their preferred order) until it finds stock greater than zero.
If you set this to a specific location, SalesIn will choose this location, regardless of whether there is stock in there.
What if there's not enough stock?
This comes down to your Out of Stock Behaviour setting.
If you set this to Allow, the stock location will be used regardless of whether there is enough stock. No warning or icon will be displayed, even if the item stock goes into negative.
If you set this to Disallow and there is not enough stock in the location to fulfill the template, the quantity of the template item will be adjusted to take all the stock that is available, and an icon will be placed next to the template item. When tapped on, it will tell the user "There is not enough stock to fulfill the template, the quantity has been changed."
If you set this to Warn and there is not enough stock in the location to fulfill the template, the total stock will be taken (putting the item stock into negative), and an icon will be placed next to the template item. When tapped on, it will tell the user "This item will be in negative stock after this quantity has been taken."
Learn how to create and maintain Sale Templates on the web portal.
Learn how to modify your device app settings