The Items List contains all of the items that your user account has permission to see. To add, change or remove items, open your items list from the Main Menu, by tapping on Items.
If you are running the Professional or Complete editions of SalesIn, tapping on Items on the Main Menu will give you a few extra options:

If you are running the Starter edition, you will be taken straight to the Items List.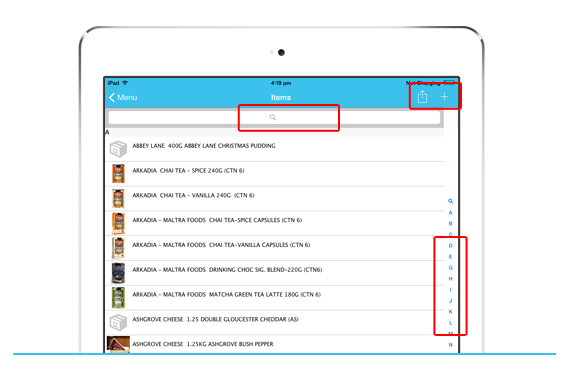 From here, you can scroll through your items, as well as search for an item by name or item code (you will need to ensure the item code setting has been switched on). Additionally, you can use the advanced search option found under the Action ([↑]) button, to search items based on Custom Fields. (If you cannot see the advanced search option, you do not have any custom fields defined.)
Viewing Item Details
Tapping on an item in the Items List (when opening the items list from the Main Menu) will show you the item details.
Item details are separated into four areas / tabs, at the bottom of the screen.

Details tab – Shows the basic details of the item, such as name, category, base price etc.

Category – Item categories are used to group items. An item must belong to an item category or it cannot be saved.
Item Code – This optional code can be used to identify your item in searches, and can also be displayed alongside your item in lists.
Tax Code – This tax code is used when this item is sold to customers.
Sales Units – Defines how many of the item is sold at once. Usually this is set to 1.
Unit of Sale – Defines the collective term for selling the item – eg "each" or "per box"
Sales Unit Price – Defines the base selling price per Sales Unit


Description tab – You can add a general, long description against this item for reference.
Stock Levels tab – This will show the current stock levels of the item, across its various item locations (if any). If you are connected to the Internet, your device will query the server for the latest stock levels, otherwise these will be the last known stock levels.
Images tab – You can use this area to view and manage item images. Images can be added using the device camera or by browsing your local photos.