To change your SalesIn B2B Settings Details, go to the Administration menu, and under General, click on SalesIn B2B Settings.
What is this area for?
This area controls everything to do with SalesIn B2B – an online web portal for your customers to place orders for themselves, directly into SalesIn!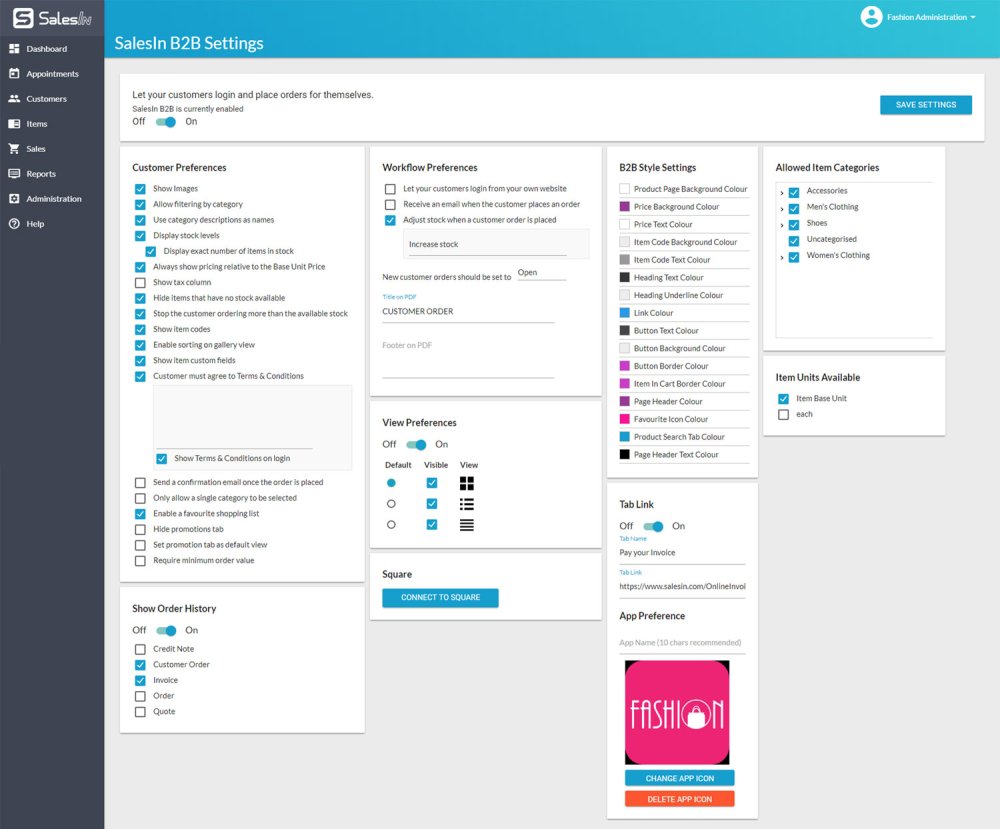 Send confirmation email after order is placed – Turning this on will email your customer a

PDF

copy of the order after they submit it.
Allow filtering by category – Turning this on/off will show/hide the item category filter from the SalesIn B2B ordering page that your customers see. Turn it off if you don't use categories, or don't want your customer seeing them.
*Display stock levels * – If you want to give your customers an indication that stock is available / unavailable, turn this option on.
Display exact number of stock – If this is turned on, your customers will see the exact quantity on hand that you have, otherwise they will just see "In Stock".
Hide items that have no stock available – If you do not want your customers seeing items when stock isn't available, turn this on.
Show item codes – Turn this on/off if you want to show/hide item codes
Stop customer ordering more than the available stock – Turn this on to prevent customers ordering more than what is available.
Let your customers login from your own website – Enter an alternative

URL

here, and it will be included on the invitation email that is sent to customers when you set up a new B2B account.

API

Documentation / UniqueId – Read more about this here
B2B Style Settings – Customise the look of your online portal using these options.
Don't forget to Save your settings when you're done!