To view and change Users, go to the Administration menu, and under Accounts and Billing, click on User Accounts.
Here you can view or manage your existing users, or create new users.
User Details
First / Last Name – Enter in the person's first and last names so they can be identifed
Email / Login – This must be a unique and active email address. An invitation / password reset email will be sent to this address upon creation or change.
Territory – You can create groups of users (or territories) and put your user into one of them. This is useful for larger teams to do reporting by territory, and if you want to view the Sales screen by Territory.
Permission Group – Specifies the permission group the user belongs to (see below)
Item Categories – Uncheck the categories that you don't want your user to see. This will also hide items within these categories when sales are created by this user.
Item Locations – Check the item locations that you want your user to have access to. You can also drag locations up and down to give them a priority – useful when using Templates with Automatic Preferred Location.

Permissions
Each user belongs to a Permission Group. You can change the permissions for any group by going to the Administration menu, and under User Groups & Permissions, click on User Permissions to browse all groups and allocated users. Alternatively, you can change the permissions of the currently selected user account and allocated group while editing a user's details.
Here is an example of the permissions within a Permission Group: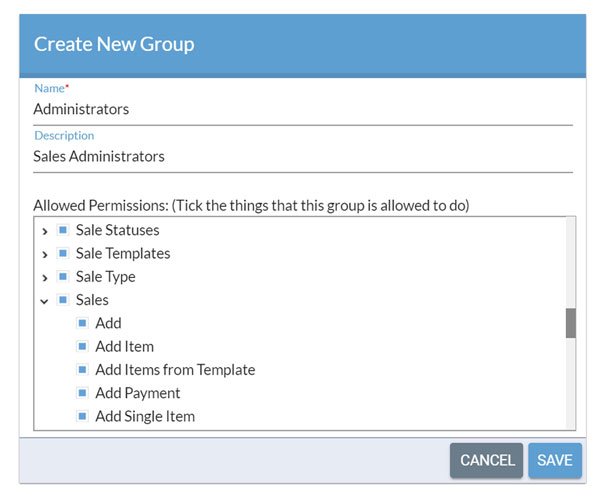 Changing permissions is as simple as finding the area of interest, and expanding out the available permissions, turning it on or off accordingly.
In this example, we can see that within the Sales area, we have control over whether a user can Add, Add an Item, Add Items from Template, Add Payment etc..
Permissions will take effect immediately upon the next page refresh (if using the website), or after the next synchronisation (when using the iOS app).