The Items List can adapt to suit the way you want to work.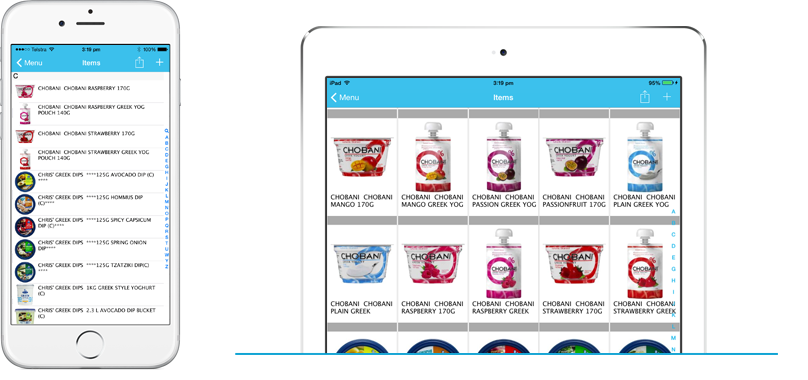 Changing the Current View
There are a few options available under the Action ([↑]) button to change the way the items list is presented.

Show Categories – Changes the view to be category based, instead of a master list of all items. This is useful if you have a large list of items, or prefer to work through item categories rather than the entire list of items.
Gallery View – Changes the list view into a tile view, showing larger photos and placing items side by side. Once in Gallery View, you have the option of using the Zoom setting to control how many items are placed side by side, growing or shrinking the size of the item images. Note that Gallery View is only available if you have chosen to store item images offline.


Change Item Location
If you are using multiple stock locations, you can filter the items list by an individual location, or all locations. Important note – the location you have selected is remembered by SalesIn, and your items list will default to this location the next time you come into this screen.
Barcode Scanning
SalesIn supports hardware based barcode scanning, but also lets you use the device camera to detect barcodes.

Linea Pro supported hardware – Once you connect your compatible Linea Pro scanner, you simply need to press the button on the scanner and scan a barcode with the laser.
Socket Mobile Series 7 Bluetooth scanners – SalesIn also has inbuilt support for the leading Series 7 handheld Bluetooth scanners from Socket Mobile.
Camera based – Tap on the Action ([↑]) button, and select Scan Barcode. Hover the camera over a barcode and it will be detected.